Vodafone – The fastest and smarter network in Delhi NCR
Vodafone IN – Fastest Internet provider on 4G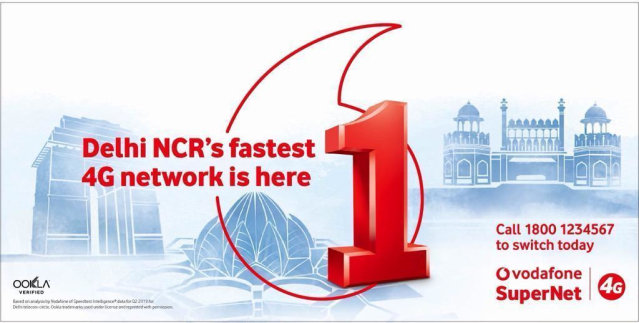 According to the recent post on ET Telecom, it states that Ookla the US-based internet speed tester website says Vodafone is the best network in the terms of Internet speed in Delhi NCR. Delhi as being the capital of the country is being on the fastest network provided by the UK based operating company Vodafone India.
As per Ookla(speedtest.net), Vodafone SuperNet 4G is the fastest Internet in Delhi NCR, as compared to other telecom operators. Vodafone IN has deployed and set up 7800 Massive MIMO, Smart Cells, and TDD sites to enhance the coverage and network capacity in Delhi NCR. Vodafone IN has completed its merger with Idea in East Delhi, Noida, G-Noida, Faridabad, and Gaziabad. Vodafone Idea Limited offers 4G, 3G and 2G services through its large network with 11745 sites and 53.8 Mhz of spectrum in Delhi NCR. Vodafone users can use 4G+(pre 5G) on handsets like Samsung Galaxy Note 8, Galaxy Note 9, S8, S9, S10, and all their other variants too.
According to ET Telecom Mr. Arvinder Singh Sachdev, business head – Delhi, Vodafone Idea said that "We are confident that our strengthened network presence and faster 4G speeds will attract more customers to the Vodafone Idea network in Delhi NCR".
To port, your number to the fastest network click on the following link: Vodafone IN
Read More: Xiaomi Mi Super Bass Wireless Headphones – Unboxing and Review
Bineet is the Web & Software Developer, he spends his day closely following the Telecom and Technology Industry. He likes to write about technology and share his views in front of public. He is a tech geek and tries to learn more and more about technology.